Back in December of 2019, I wrote and article titled "The Unintended Consequences of Offshore Wind."
https://offshorewfs.com/unintended-consequences-of-offshore-wind-farms/
It attracted a very large amount of readers from both sides of the isle and actually put this blog on the map.
Sportfishing enthusiasts loved it, NIMBY folks hated it, and the Offshore Wind Developers seemed a bit relieved.
As time goes on and more irrefutable proof is revealed, I'm more convinced more than ever that Offshore Wind will have a significant positive impact on fishing. More structure, more organisms, more sea life and more fish – Period.
Structure can take many forms – Lobster Pot Buoys, Weather Buoys, Weed Lines, Shipwrecks, etc. Anything that produces any form of protection for little fish also attracts bigger fish.
My nephew is one of the best "For-Hire" Big Eye Tuna Fisherman on the east coast. Want to know his secret? He locates structure. The young man is amazing.
South of Martha's Vineyard, the offshore wrecks such as the Andrea Doria, Pensilvania, Republic, Suffolk (to name a few) sit on the bottom of the ocean on soft sandy bottom. They all attract and hold fish. Some more that others depending on sea temp and time of the year.
---
In Hawaii, they have buoys called FADS – Fish Aggregating Devices (Blue Circles in image below), and in California, the Tuna and Yellowtail boats search for floating Kelp Beds.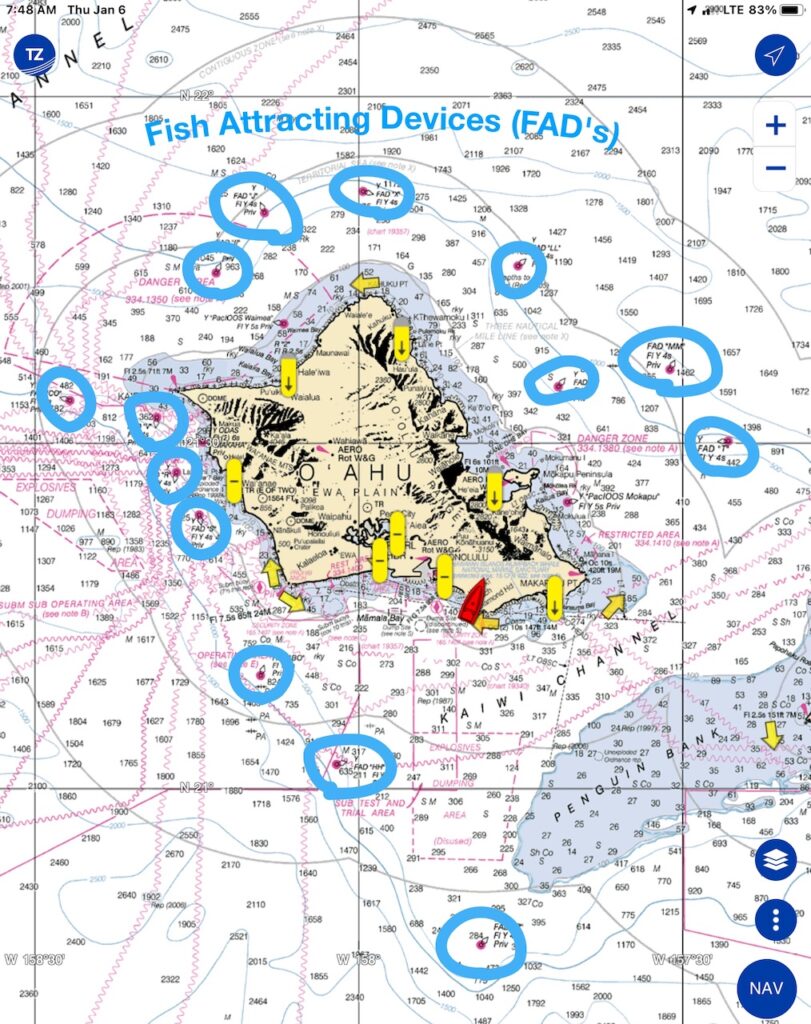 ---
The Gulf of Mexico has Offshore Oil platforms that attract and hold fish by the

Millions

.
Sportfishing boats troll from rig to rig catching everything from Tuna, Amberjack, Shark, Marlin and everything else. When they bottom fish they get covered up with Red Snapper and Grouper.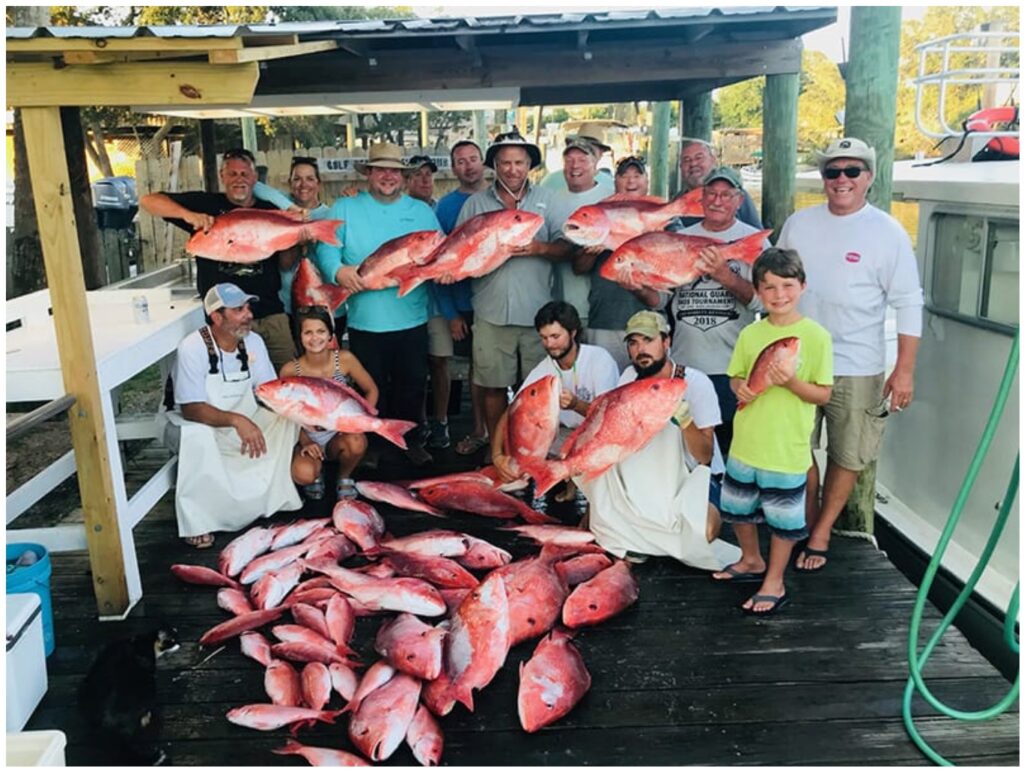 I have personally fished all the above mentioned areas except Hawaii  and I can tell you from first hand experience, they ALL hold fish and are "Go-To" places for fishermen. (NOTE: I'm in Hawaii visiting my grandchildren while writing this and will be fishing the FADS with my son in a couple days).  
So, when the Wind Farms are built, there will be an enormous amount of structure up and down the coast from bottom to top so they will hold bottom and pelagic fish.
---
Sportfish Boat Builders, Tackle Manufactures and Boat Brokers Should Be Ecstatic Over Offshore Wind.
It pretty much goes without saying, most will use the services of a boat broker and all of them will buy new fishing tackle.
I don't want to get too long winded on this, but you get the idea.
Offshore Wind Turbine structures will have an enormously positive impact on the "For-Hire" and Sport Fishing Industry.
---
My friend Dave Monti www.noflukefishing.com from Pt. Judith wrote an excellent article titled "Turbine Reefs Could Be Largest Expansion of Underwater Habitat in U.S. History" https://johnstonsunrise.net/stories/turbine-reefs-could-be-largest-expansion-of-underwater-habitat-in-us-history,170038 Worthy read and hits the nail on the head.
Regardless of what my opinion is, I leave you with a very informative short video produced by the Nature Conservancy: The Undersea World of Wind Turbines
When hard structures are put in the ocean, they often turn into artificial reefs. Oceanographers and others have observed how submerged shipwrecks and bridges can become home to wide and colorful arrays of marine species, as have the underwater portions of many offshore wind turbines in Europe, China, and other parts of the globe.
Feel free to contact us or publish comments below.