Make no mistake, as an opinion piece, with roots from within the industry, I could hardly believe I was so SPOT ON!
Back in December of 2019, I wrote a blog titled "Offshore Wind – A Savior To Struggling Fishing Communities"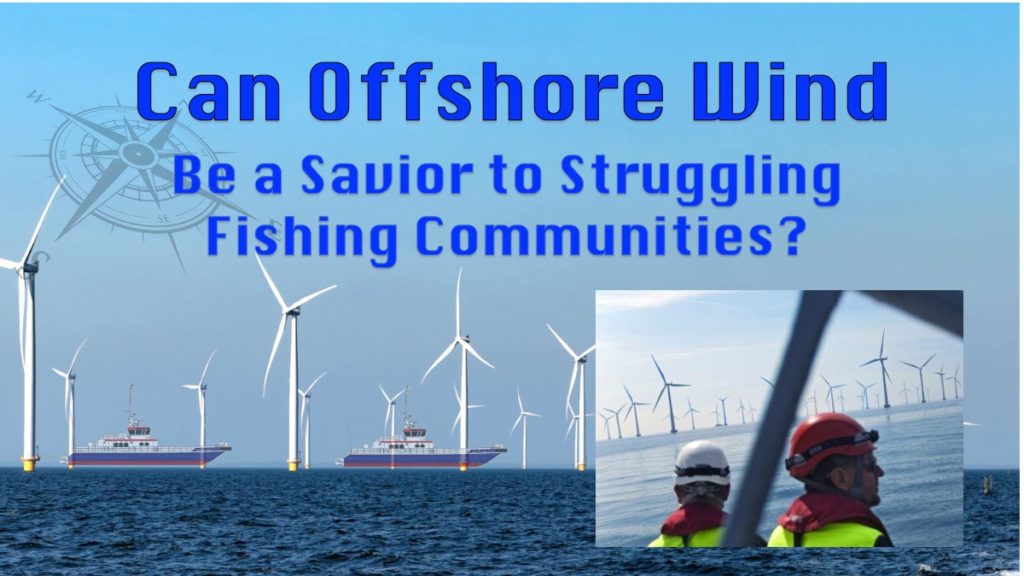 It was written as a "forward looking" opinion piece, ruffled a lot of feathers and generated a LOT of controversy.
And Guess What ….. It's All Coming True
In the piece, my explanation of how Offshore Wind might really be a good thing for fishing communities that have been struggling with regulations, cut backs, ever increasing real estate prices and climate change was met with mixed responses.
I thought I might lose friends and family over the content, but in reality, the exact opposite happened.
The post generated a lot of curious emails about how fishermen could get involved and it also sparked a pretty big controversy from the "Not In My Back Yard" (NIMBY) folks who just don't want anything to change.
One of the biggest complaints from the waterfront, was that the Offshore Wind industry lacks the use of local jobs and in some instances, the use of non-Jones Act Compliant vessels.
I am in complete agreement on both those fronts, the lack of local jobs hitting home with me the hardest!
The boats performing the survey work have been US boats.
While not local, they are US flagged vessels, come up from the Gulf of Mexico and are manned by US crews. That can be improved upon!
As for the Foreign Flagged vessels, the truth is, there simply are not any boats built in the USA that can do what needs to be done for the construction of the Offshore Windmills.
As I write this, I am sitting in my room onboard one of 8 boats in the entire world capable of performing the bottom testing that needs to be done.
It's not actually the boats that are unique.
It's the testing,
It's the equipment
It's the processes that need to be followed
All of which I am quite certain that soon the US engineers will make a better mousetrap, streamline the process and move forward with lightening speed as is typical US style.
Getting back to the non-Jones-Act boats in the USA, the boats are coming and there will be plenty of jobs in shipyards as they are built and many more onboard positions to fill afterward constructing and maintaining the Offshore Windmills.
The following article written by John Snyder goes into detail on the upcoming new Jones Act compliant vessel builds.
https://www.rivieramm.com/news-content-hub/news-content-hub/first-us-wind-turbine-installation-moves-closer-to-reality-59338
In my opinion: Offshore Wind Is Going To Be A Behemoth In The USA. It is going to create and provide tens of thousands of high paying jobs for many years to come.
The question you should be asking yourself is "How Do I Get Involved?"

To learn more, Contact Us at 601-SEA-WIND.