Montauk is a small fishing village located on the eastern most tip of Long Island. It has long been as "The End" – a place where locals and tourists alike come to experience its unique beauty and charm.
When I was a kid, both of my grandfathers were fishermen as was my dad, and of course, having literally grown up on the back deck of a fishing boat, so I had little choice but to become a fisherman as well. I studied for and pass my captain license exam while still in high school and was running a 105' party fishing boat before graduating 12th grade.
Back when I was a kid, there were 5 boats running to Coxes Ledge Cod fishing year round, and in the summer there were about 6 boats fishing for Fluke, Porgies and Seabass, and another 200 or so charter boats targeting Bass, Blues, Shark and Tuna.
The town docks were full of commercial fishing boats and boats sailed in and out of Montauk harbor 24hr a day.
The waterfront area of Montauk was a boomtown in the summer and remained busy in the winter. Restaurants operated 12 months per year and working on and around the waterfront in Montauk was a great place to work and wonderful way to live life and raise a family.
But, over the past 25-30 years the once thriving Montauk waterfront economy had taken a turn for the worse due to the decline in fish stocks and ridiculously restrictive fishing regulations.
Many of local shoreside fishing businesses were forced to close down or change their business model and cater to tourism which lead to the slow and painful downfall of the Montauk waterfront, leaving many of the townspeople without year round income, and forcing many young families to move out of town. Heck even the one small elementary school is having a hard time keeping the doors open!
Back in the day, there were way more than 1,000 working in the summer and 100-200 would remain in the winter – now, Montauk harbor is pretty much a ghost town for most of the year.
HOPE FOR THE FUTURE:
Now however, there may be hope for Montauk's future. Offshore wind energy is being explored as an option for powering Long Island and could potentially provide high-paying year round jobs to its residents.
Montauk is perfectly located and the closest point of contact for New York residents to work on the Offshore Wind Farms that will be providing power to the state of New York. (see photo)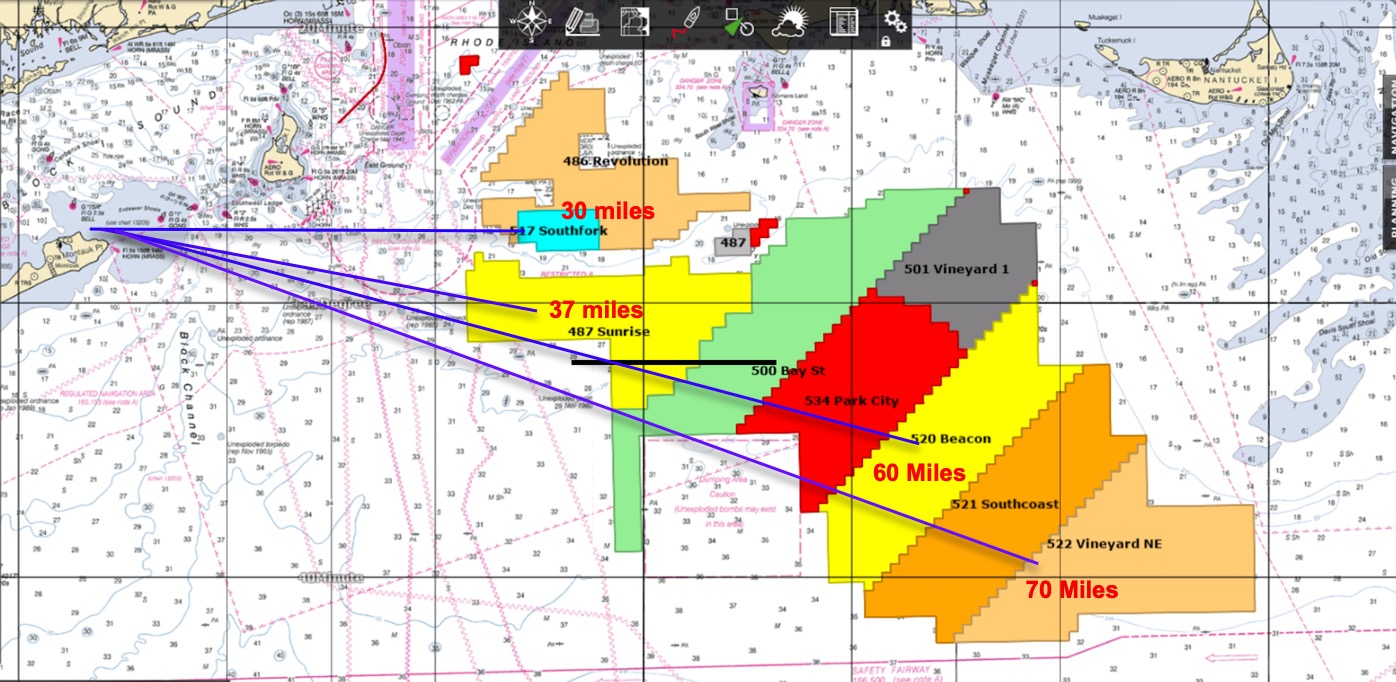 Offshore Wind has the potential to become a driving force and help bring back much needed jobs to the area and revive the waterfront business district once again. With the advent of this clean power source, the town may be able to thrive again — not just as "The End'" but also as a prosperous fishing village.
It's happening in New Bedford, Massachusetts right now, and it could very well happen in Montauk.
When looking at the future of Montauk, offshore wind energy could be key in restoring its past glory while ensuring a sustainable economy for years to come. Montauk is PERFECTLY POSITIONED to serve as an Offshore Wind Services and Supply port for the Offshore Wind Fields that will be providing power to the state of New York. Take a Look At This Map Posted By NYSERDA (New Your State Energy & Development Authority: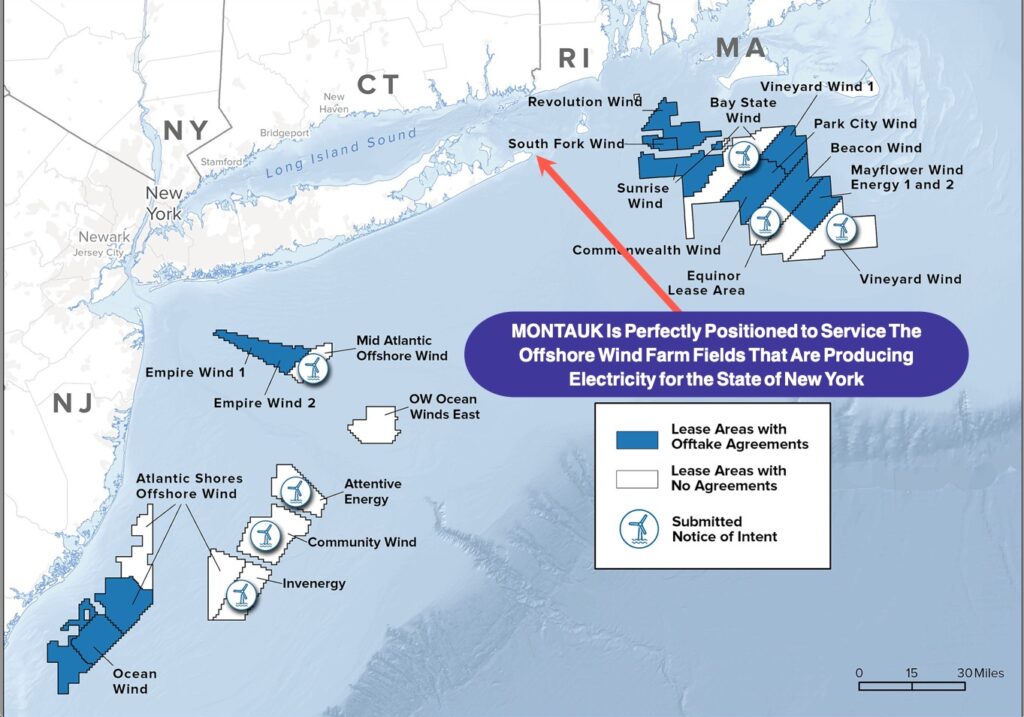 With continued support from state and local government, along with an investment in green energy technologies, Montauk's waterfront may spring back to life – providing good paying jobs for its residents and becoming a place where people can once again have year round gainful employment so they can raise a family on the east end of Long Island.
Now for those of you who know me, I believe Numbers Don't Lie, (only people do) and I have a tendency to get all wrapped up with Excel in the middle of the night, and this post is no different – let's look at a few numbers shall we?
A CTV (Crew Transfer Vessel) is manned by 4 marine professionals. (2 captains, a 1 deck hand and 1 engineer).
Turbine Technicians: I don't know this for sure, but I have been told as many as 18 per vessel, but I'd rather err on the side of being conservative so I'm only going to use 14.
Total People onboard each vessel: 14 plus 2 shoreside support staff
The boats have 2 crews, so each boat will create about 30 full time jobs.
NOW, we need to add indirect support jobs and according to NY Job Development numbers, each job has a multiplier of 6 meaning each boat will have a direct/indirect of 180 jobs!
6 boats = 1,080 jobs or a ROBUST working waterfront economy in Montauk so once again people can afford to live in Montauk and raise a family.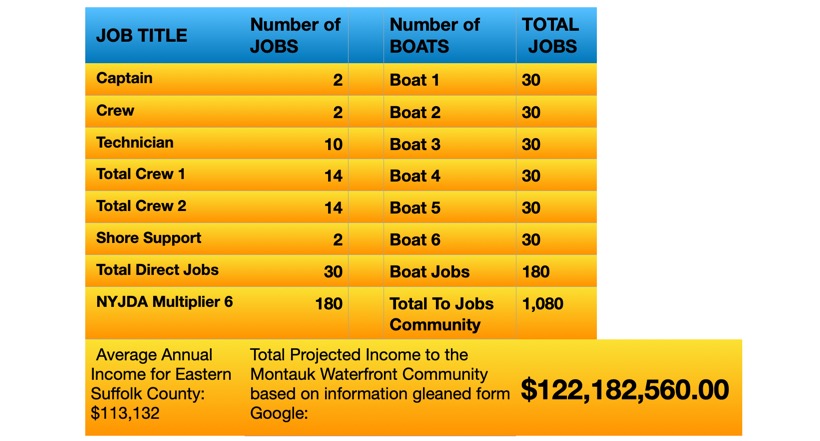 The average annual household income in Suffolk County is $149,028, while the median household income sits at $113,132 per year. Residents aged 25 to 44 earn $127,819, while those between 45 and 64 years old have a median wage of $138,464.
>> CLICK HERE and see for yourself <<
The Numbers Are Staggering & The potential is there; now it is up to us to make sure it happens!
Thanks for reading! Please share this article and help spread the word about Montauk's potential to become a leader in green energy. With everyone's support, we can ensure that "Montauk The End" might just be rebranded "Montauk The Beginning"