Is the "For-Hire" Fishing industry the Red-Headed Stepchild Stakeholder of the North East US Continental Shelf?
They generate Billions of Dollars of Revenue, They support Tens of Thousands of Jobs and yet they have no voice when it comes to the development of Offshore Wind.
Why are they being completely ignored and scoffed at?
Why is it they have not been contacted by developers or other stakeholder groups when it comes to Offshore Wind development?

The "For-Hire" fishing industry has just as much right to be on the water as anyone else and they should be represented accordingly.
There was an Environmental Impact Study released on June 12. 2020 and the "For-Hire" fishing industry was mentioned 287 times in a 420 page report. (Yes, I Counted!) https://www.boem.gov/sites/default/files/documents/renewable-energy/Vineyard-Wind-1-Supplement-to-EIS.pdf
Why are they being ignored?
The "For-Hire" Fishing Industry is Huge.
Charter and Party Fishing industry employs tens of thousands of people.
They take hundreds of thousands of people out fishing each and every year.
They invest multiple hundreds of thousands of dollars into their boats.
They are just as important of a stake holder in the US Continental Waters as anyone else.
I bring this up because recently I attended a Zoom conference by a group claiming to be a non-partisan group of mariners supporting Responsible Offshore Development.
According to their website, they are a broad membership-based coalition of fishing industry associations and fishing companies with an interest in improving the compatibility of new offshore development with their businesses. They have 12 directors and not one of them is associated with the "For-Hire" fishing industry.
In fact, when the subject briefly came up, they, (the For-Hire Industry) were completely dismissed in a rather demeaning tone.
This caught my attention so while listening, I had a chance to review their Membership Roster, their Board of Directors and Business Associations and could not find one single person from within the "For-Hire" fishing industry and yet, they have a Memorandum of Understanding with NOAA that claims to bring local and regional fishing interests together with federal regulators to collaborate on the science and process of offshore wind energy development on the Atlantic Outer Continental Shelf.
It didn't sit well with me at all and after about a week of pondering, I decided it is wrong and someone needs to say something – so here I am at 0200 on a Sunday writing this post.
According to American Sportfishing Association, the "For-Hire" and Recreational Fishing Industry Is Responsible For:
$3,102, 854, 886 in retail sales
$5,046,450,761 ripple effect in spending
$407,682,6022 in Federal Tax Revenue
$358,328,898 in State and Local Tax Revenue
$1,647,744,759 in salaries and is responsible for

41,569 Jobs
>>> 41,569 JOBS <<<
Below is a screen clip of a spreadsheet I put together and a link to the source so you can download the information yourself if you'd like.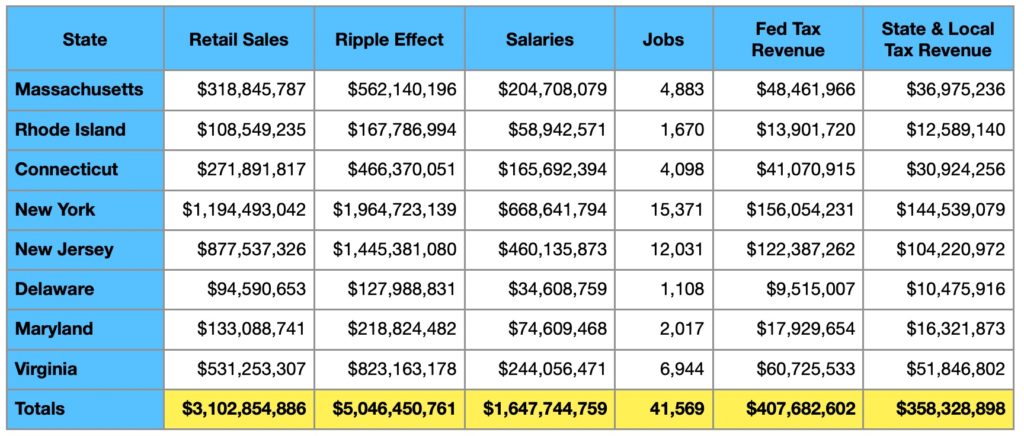 As you can plainly see, I am only referencing data from the states where Offshore Wind Farms are to be built. Massachusetts to Virginia.
I'm not making this stuff up. Here is a link to the report – go ahead and download It for yourself. https://asafishing.org/uploads/2011_ASASportfishing_in_America_Report_January_2013.pdf
Why Is This The "For-Hire" and Sportfishing Stake Holder Group Being Ignored?
It's Not Right, It's Not Ethical, And It's Not Fair.
Based on the best available data available to me at this moment, there are:
3,979 Federal Fisheries Permits Issued on the East Coast:
(not counting 20 under 20′)
Leaving a balance of

2,207

Federally Permitted Fishing Vessels and at least half of them (1,100 or more) are "For Hire" fishing vessels.
In closing, I want to say I am in contact with the Wind Developers on an almost weekly basis and it is not their fault.

They have tried with different groups (no need to mention names) to interact with the "For-Hire" industry and for some reason the message has not gotten through. (Tell you more about that in future posts)
After much thought and hundreds of conversations and emails with the "For-Hire" folks who are eager to learn more and possibly get involved, I will be starting group to address this specific issue. Stand By … More To Come on this important subject.
>>> Current and Growing List <<< of "For-Hire" Fishing Vessels Eager To Participate in Offshore Wind Work
I look forward to reading comments below or you can always contact me for a personal conversation about Offshore Wind, or arrange an interview.
This is © material about Offshore Wind – Please contact me directly for re-posting permission.